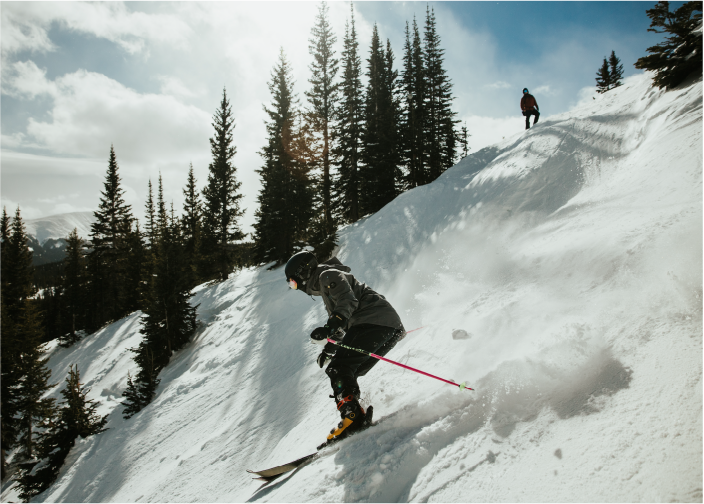 Renting vs Buying Snow Gear
Renting is the way to go if you're just getting into skiing or snowboarding. You get to try out all new and different things, and get confidence on the mountain before fully committing. It's also great if you're a casual, once-a-year type of skier who maybe lives somewhere a little more tropical. In any case, renting your snow clothes can be great for your bank account and for mama earth. Here's why:
Save money
Snow sports aren't really the low financial barrier to entry types. There's the lift tickets, the transportation to the mountain, maybe lodging if you're going further away, ski or snowboard equipment, and apparel. The cost of a new set of ski apparel alone might run you upwards of a thousand or more dollars. But that's where we come in! Renting gives you the opportunity to try out gear and find what you like, hone in on your sizing, and figure out what the heck Gore-Tex is before making a larger financial commitment.
Renting is especially awesome if you have growing kids. You can try out a size for a bit and not have to worry about constantly buying them new gear. Or, if you do a season lease and they grow over the course of the winter, you can send the too-small pieces back to us and trade up for a bigger size!
 $200 (Columbia) - $700 (Arc'teryx)
$44/ weekend, $112/ season
 $100 (Columbia) - $550 (Arc'teryx)
$32/ weekend, $80/ season
$20/ weekend, $48/ season
$20/ weekend, $48/ season
Jacket, Pants, Gloves, Beanie, Boots, etc: $500 - $1600
Deluxe Apparel Package:
$132/ weekend, $320/ season
$12/ weekend, $32/ season
Jacket, Pants, Gloves, Beanie, Boots, etc: $250 - $400
All Apparel Package:
$88/weekend; $224/season
Save time
There's a few ways renting with us saves you time. First of all, you can cruise our site while enjoying a movie at home or (on your lunch break) at work, and quickly get outfitted for your next trip. Plus, we'll ship straight to your home or to the hotel you're staying at, for free! No extra checked bags or lugging damp clothes around with you. Just check under the hotel bed for loose gloves, please!
Save space
One of the great things about renting your gear is that you don't have to store bulky warm jackets and snow pants in your home. Pretty key if you find yourself in a nice little NYC-esque closet apartment. And like we alluded to before, it'll be one less thing for you to worry about in the plane, train, or car (or maybe all three; I see you Denver) on the way to the mountain. By having your rental gear delivered straight to your destination, you have more time (and cash!) to lounge at the airport bar (COVID permitting), for instance.
Save the planet
It is possible to find cheaper versions of snow apparel that'll do you for maybe a couple trips a year. But the fast-fashion approach dumps an increasing amount of material into the discard pile, a.k.a. landfills; Americans collectively throw away over 11 million tons of textiles per year, amounting to almost 8% of total landfill contributions. Only about 15% of textiles are recycled or reused. Though second hand stores and ski swaps are great for turning over gear and apparel you own, renting your clothes means that you get to utilize amazing gear at a lower price, and then pass it along for someone else's adventure. And we handle all the washing and shipping and general care for you!
We hope we can help you get out there in the snow this winter! Show your wallet and the earth some love by renting all your snow gear. 
---