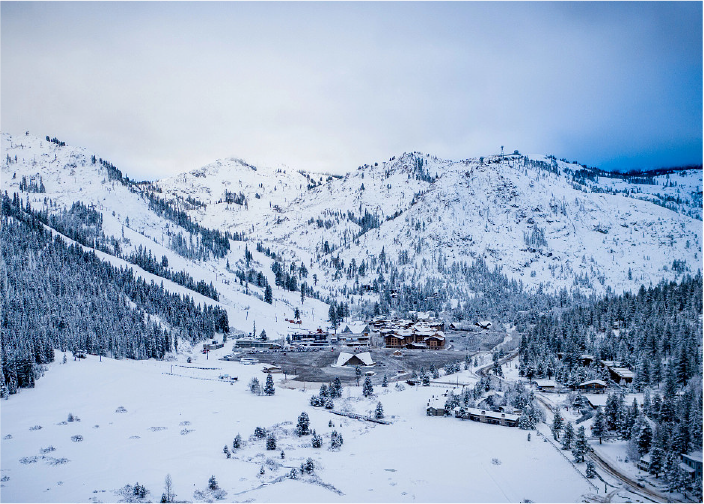 Trip Recap: Palisades Tahoe
Where is Palisades Tahoe?
Palisades Tahoe is actually composed of two, co-owned neighboring resorts on the western shores of scenic Lake Tahoe in the Sierra Mountains; Alpine Meadows and Olympic Valley. Tahoe, with at least 15 ski resorts surrounding the mountainous lake region, is an incredible place for a winter vacation. Lake Tahoe is approximately 3 hours east from the Bay area, 1 hour from Sacramento or Reno, all of which have large international airports. If you're driving, make sure to carry snow chains and acquaint yourself with how to put them on your car. 
How much does it cost to ski at Palisades Tahoe?
Palisades is on the Ikon collective pass, or you can buy a day pass for $99-$229 depending on the day. Reserve early for a better deal! Midweek tickets are usually cheaper, and you can snag a midweek 4 pack of tickets for $389 (which comes out to $97.25 per day, best deal around). So if you're planning a weeklong vacation, you can save money, and time in the lift lines, by getting your runs in during the week and spending the weekend enjoying other activities like snowshoeing or cross country skiing through the surrounding hills, or strolling by the lake. Check out Emerald Bay for easy hikes with incredible views. 
What's the terrain like at Palisades Tahoe?
You get a little, or rather a lot, of everything at these two resorts. One of the beautiful things about going to
Palisades Tahoe is that you can easily shuttle between the two, so if the lift lines are too long at one or you couldn't find parking, or maybe you just want a change of pace, you can shuttle a few minutes down the street to completely different runs. 
Palisades is known for its massive scale, it's Olympic heritage, it's gnarly and diverse terrain. You get everything from massive chutes and technical faces to the meadow at the upper mountain that'll give you endless turns to prepare for the extended Mountain Run at 3.2 miles back to the bottom (or take the gondola). KT22, the most infamous lift at Squaw, takes you up to the city of black diamonds. Lap Olympic Lady and the Headwall Express as well for never ending access to chutes, cliffs, and epic terrain.

Alpine Meadows has a very different feeling than the well-deserved bravado that is Olympic Valley. Alpine has a small mountain vibe without actually being a small mountain. There's fun to be had all over, from long blue cruisers to seemingly countless bowls and chutes. Catch Scott chair for some steep excitement, and don't forget to drop into the backside of the mountain for tree runs and steep bowls, plus a semi-secret Ice Bar. There's nothing like slouching back in an Adirondack chair with a cold beer while you wait for your friends to catch up.
Where should I stay?
One of the best things about Lake Tahoe is the seemingly endless availability of lodging. You can stay at the Olympic Valley Lodge if you like to wake up at 8:45 and roll over directly onto the air tram. Or, if you're bringing the gang it's awesome to book a whole cabin on AirBnb or VRBO. Tahoe City, Carnelian Bay and Kings Beach areas are only about 20 minutes drive away from Palisades Tahoe and right on the lake. If you prefer a small town, local vibe, check out Truckee 20 minutes to the North, or Tahoma to the south of the resort. 
Where's a good place to eat?
Le Chamois & Loft Bar is just far enough away from the lifts to feel hidden, even though in reality it's right below the Gold Coast Funitel. They have pretty great pizza and the pitchers are always full. Pop over for a little après moment and hold onto the last moments of your amazing day at Palisades. 

If you venture out to Tahoe City (and you should!) check out Za's Lakefront. It's right on the water and very reasonable price wise, especially for having eye level views of Lake Tahoe and a heated patio. Don't miss those fried brussel sprouts and the sunset.
---